Wash Your Feet Without Bending Over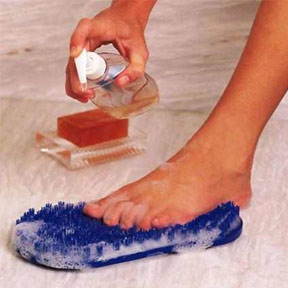 Don't you feel like a sucker when you have to actually bend over in order to wash your feet? It can be a real pain. All kidding aside though; this task can be incredibly difficult for some people and virtually impossible for others. Elderly folks, people with disabilities and others all can have trouble getting their feet clean. Other people like campers, hikers, landscapers and more just have incredibly dirty feet on a daily basis. There is a neat little product that can help all of these people and also any one else that just wants an easier way to get those dogs clean. It turns out that when it is made easy, people tend to do it a lot more. This means that any one would benefit from a Soapy Soles in their shower. It is the easiest way to clean feet using the least amount of effort.
Soapy Soles won't actually wash your feet for you, but it will make it incredibly easy for you to accomplish the task with very little effort, all by yourself. Just imagine – No bending, no straining, no slipping and no reaching. Simply add soap and you are good to go. The Soapy Soles will build up an incredible lather in seconds, so just a few passes with your foot will leave it extremely clean. It actually massages as it scrubs too, so your foot will get pampered as it is washed. Increase circulation and improve blood flow to the area as thousands of tiny fingers gently deep clean your entire foot in very little time.
The whole unit suctions to the bottom of your tub or shower and stays firmly in place where you put it. These suction cups also allow you to stick it to the side of the tub when not in use to keep it out of the way, and aid in drying. It can be used with any kind of soap so you are free to use your favorite. This great scrubber does all the work so you don't have to. It feels great and works even better. Soapy Soles all but eliminates awkward bending & balancing while in the shower, and is a refreshing treat for tired feet.
Soapy Soles foot washer
3 comments to Wash Your Feet Without Bending Over
After a stroke, I have residual paralysis on my left side and ordered this gizmo, praying I wouldn't be disappointed…I am thrilled with it! It's one of the best products I've bought in the past ten years! The "bristles" are gentle on the soles of my feet and very effectively clean and massage, making my feet ready for moisturizer upon exit from the shower. I've told all my friends and family about this clever product that really does stay affixed to the floor while in use, and attaches easily to the wall to dry out when finished. Really great product!
COMMENTS OR QUESTIONS?


Reply to this tip by typing in the box below.