The Green Way To Store Your Greens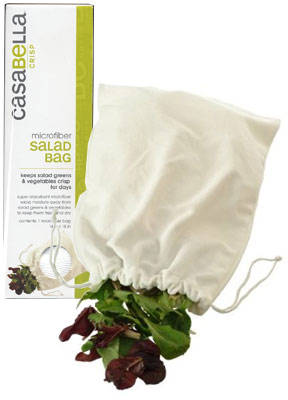 Introducing a revolutionary new salad bag made from microfiber. This totally reusable bag will keep your salad or other vegetables fresh and dry for a longer period of time. This is an eco-friendly salad storage device that really works. The high-tech microfiber material is designed to pull moisture away from your produce and then eliminate it. Your vegetables stay dry and protected from the circulating air of your fridge, so they remain crispy and fresh for when you want to eat them. You will always have clean fresh salad greens right when you want them, and thanks to this great bag you can keep them fresh longer. It is totally reusable and can be machine washed hundreds of times before it needs replacing. It is great as a practical, and space saving solution to keep your produce fresh. Since it is a fabric bag instead of some large bulky plastic container, it can conform to any shape, and fit just about anywhere in your fridge, while providing the same level of preservation. When it is not in use, the bag folds neatly to be stowed in a drawer with other towels and kitchen cloths.
HOW TO USE IT:
Just wash and dry your lettuce, and place it in the bag. Close tight with the drawstring at the opening and then place in your refrigerator. All of the moisture that would normally collect and cause your veggies to go limp and rotten gets wicked away, and absorbed by this bag. Buy for green leafy veggies, but it can be used on any type. This is a space-saving, eco-friendly, and super easy way to keep vegetables fresh while stored in the fridge. Enjoy the great taste of fresh vegetables for days longer than usual by keeping them dry and protected.
COMMENTS OR QUESTIONS?


Reply to this tip by typing in the box below.