The Easy Way to Hang a Picture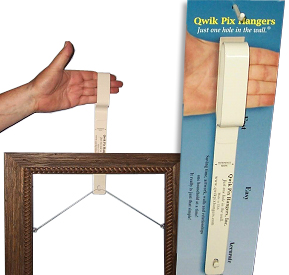 Hanging pictures or anything else on the wall can be a huge pain, especially if you want to hang it in a certain spot. Most people will pull out the stud finder, laser level, hammer, nails, tool belt, ladder and special assistant and still have problems when all is said and done. Even with a high-tech laser it is still quite hard to hang several pictures in a straight line or to place a single picture in an exact location. Most often you pound in a nail and hang the picture only to find out that it is a centimeter too low, or just a hair to the left of where it should be. This leads to removing the picture from the wall and starting over. Often times you will have to try several times before you get the correct position or give up, whichever comes first.
If you are like most people, and have trouble when hanging artwork, pictures, mirrors, clocks and more then there is a new tool for you. The Qwik Pix Hanger makes the daunting task of hanging a picture on the wall quick and easy. You be able to achieve true precision the first time and every time with this clever little tool. It is ideal for displaying an arrangement of framed pictures because it allows you to place the picture exactly where you want it. With Qwik Pix, you can avoid common hanging mistakes like placement too high, too low, or putting extra holes in the wall. With just a few simple steps the qwik pix allows you to place a mark exactly where you need to place the nail, so that your picture hangs in the exact spot you want it. This great tool makes it easy to hang pictures in a straight line or precise arrangement.
First you hang your picture or other item on the hook located at the bottom of the Qwik Pix. Then hold it against the wall and position it so it is hanging where you want it to stay. Next, make a small mark, with a pencil next to the reference mark on the Qwik Pix. Remove the picture from the hook and then re-align the Qwik Pix with the mark you made on the wall. Now all you have to do is place a small mark in the hole under the hook. This is exactly where you need to put your nail, so just pound one in and hang your picture. It is just that easy to hang a picture in the exact location you want it. Get perfect placement each and every time!
COMMENTS OR QUESTIONS?


Reply to this tip by typing in the box below.