The Best Broom For Sweeping Sand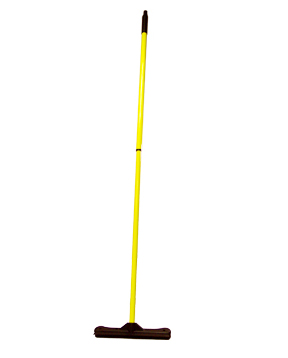 If you have ever tried to sweep sand then you know that it is one of the hardest things to sweep ever. Especially if you are using a traditional broom. But if you live or vacation near the sand then it is a necessary chore. Sand is one of those substances that seems to get everywhere, and is nearly impossible to clean. It doesn't seem to matter if it is on a deck, kitchen floor, in your car, on the carpet or anywhere else. Traditional brooms just don't cut it when you are trying to clean up sand. You can sweep and sweep but there will always be some left, and lots of times you end up just spreading it around, and causing it to fly all over.
There is one broom that makes the frustrating task of sweeping sand an easy job, The Sweepa Rubber Broom outperforms traditional style brooms for every imaginable sweeping task, but cleaning up sand is one of it's specialties. It is the unique design of this broom, along with the material and construction that allow it to completely remove sand so well. It doesn't matter if you are sweeping your driveway, your entryway or your kitchen. THis broom is safe and effective anywhere you use it. The Sweepa Rubber Broom is able to completely remove all of those tiny particles, and it does not take any special steps, effort or talent to do it.
SO WHAT MAKES IT SO GREAT?
We are glad you asked. A rubber broom is drastically different than regular brooms, and they have many benefits. Our rubber broom has proven to be the highest quality and best working model available. Its one piece molded rubber head conforms to any surface, and the bristles form a solid wall as you sweep. The rubber head is the same strength as car tires, so you know it will last forever, but it is also gentle on every surface, and will not scratch or mar any surface. This rubber construction also causes the broom to build a static charge as you use it. This improves the sweeping action, and actually causes dirt, sand and other debris to sweep up more easily, stay right next to the broom, and prevent lighter particles from floating away or flying up as you sweep. The static charge, combined with the wall of rubber bristles allows you to completely clean any surface in just one pass. No more sweeping, re-sweeping and then going back to sweep again in order to clean your floor of sand. It even has a squeegee on the opposite side which can be quite useful for sand on patios, concrete and other smooth surfaces.
Maybe you live at the beach, or maybe you just go there for fun and track sand home with you. This broom will help to make an impossible cleaning chore just as easy as sweeping anything else. If you live in New Mexico or Arizona then you will not want to live without one of these brooms. Stop struggling with traditional brooms that often just glide right over sand, and try a broom that actually works. Our Sweepa Rubber Broom is easy to use and will last forever. Get one to prevent sand from ruining your day, and find out how great it is fr every other sweeping chore too. It is awesome on pet and human hair, and will make quick work of plain old dirt too. Keep one in your car in the winter time to remove snow in seconds. It makes a great shop broom or garage broom too because it works great and is virtually indestructible.
COMMENTS OR QUESTIONS?


Reply to this tip by typing in the box below.