Shredding Vegetables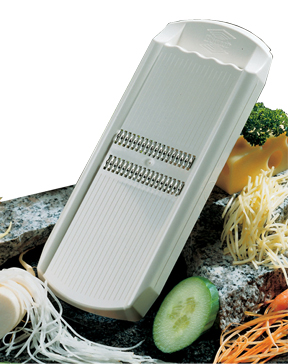 Many Chinese recipes and other stir fry recipes call for shredded meats and vegetables. Also for dishes like cole slaw, Korean carrot salad and other fresh veggie salads and side dishes will require you to finely chop or shred your vegetables. Once you stop to think about it, there are a number of meals that will require you to uniformly shred veggies. There are probably quite a few that you haven't even tried because you didn't want to go through all of the trouble.
If you have ever tried to do the shredding for any of these dishes, you know it is time consuming and difficult. Regular graters aren't really designed for this job, and the dull blades make it nearly impossible. Plus you don't really achieve the thickness that is optimal. What you end up with is too thin or mangled because the tool is actually designed for cheese which is much softer and mostly used in thinner shreds. You can always use a big knife and cut your vegetables into a bunch of little strips, but this can take a long time. There are certain people out there that enjoy extensive cutting projects, but for the rest of us, we need a faster and easier way to do it. Plus with all of that cutting, odds are somebody is going to get hurt.
What you really need  is not a shred at all. A thickly shredded piece of food is actually a really thin julienne. Thicker julienne cuts are used for french fries, veggie sticks and more. A thin julienne though, is much thinner and is almost as this as a shred. This thickness is perfect for stir frys and salads, and is more suited for your vegetable ingredients. A thin julienne is a perfect little stick of food with a uniform thickness and length.
The Borner Thin Julienne Slicer is the perfect tool to achieve this cut or shred. It is an easy-to-use device that makes shredding your vegetables a quick and easy task. It is made in Germany and features ridiculously sharp blades. The blades are so sharp that it is recommended that you use a safety food holder in order to protect your precious fingers. It may sound scary, but really the sharpness of this device just makes it incredibly efficient and simple to use. Simply slide your veggies across the tool to quickly shred any vegetable. It works great for cheeses too, but it is actually designed for the tough job of shredding vegetables. Like a hot knife through butter you will be able to make quick work of even the hardest veggies to easily prepare the ingredients for your salad or stir fry dish. Use it for vegetable salads, garnishes, side dishes and more. You will find it is easier than ever to slice and shred vegetables all the while achieving perfect, uniform results. Use this great gadget for shredding carrots, potatoes, or onions, thinly cutting sticks of apples, or cucumbers.  It produces a slightly thicker and more stick-like shed when compared to traditional graters and shredders. It is actually doing a thin julienne cut. It is not quite a shredder, and not quite a slicer. One thing is for sure though. No kitchen is complete without one of these great julienne slicers from Borner.
1 comment to Shredding Vegetables
Shredded veggies are such a good snack. I love to dip them in ranch and other saucer.
COMMENTS OR QUESTIONS?


Reply to this tip by typing in the box below.