It's Easy to Remove Grass Stains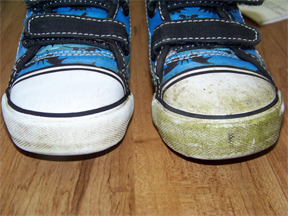 Spring and summer are great. The warmer days bring people outdoors to work in the garden, mow the lawn, or partake in other outdoor fun. You will find your kids playing football, tag, or just hunting for bugs on the ground. With all of this outdoor activity, one thing is inevitable though. Grass Stains. Whether it is on your shoes from walking behind the lawn mower or on your children's pants from scuffing their knees, grass stains are just another part of this time of year. We have all had white sneakers turn green or our favorite jeans seemingly ruined by the bright green color of freshly cut grass. If you have children, you know that they can get a stain on just about any piece of clothing, and on any part of their body. This green streak looks awful unless it is removed, but like any stain, there is a right and a wrong way to clean it. If you use the wrong technique you may make the stain worse or inadvertently prevent it from ever being removed.
The lovely green color of a grass stain is caused by all of the chlorophyll in the plant. There are also proteins and other organic matter that combine to create what is considered to be a pretty tough stain to remove. Technically it is referred to as a dye stain, which means that if you don't use the right tool for removal, a grass stain could become permanent.
You may not be able to stop grass stains from showing up, but you can effectively remove them once they arrive. You don't have to use anything crazy either, or go through any hard steps to do it. This is one of the jobs that Quick'n Brite is really good at. It doesn't matter if the stain is on your shoes or your clothes. It can be vinyl, leather, cotton, jeans, a t-shirt or virtually any other surface. Quick'n Brite will easily remove this type of staining in just minutes. It literally took less than 60 seconds to achieve the results in the picture above. Once the cleaner is applied, it goes to work quickly to break apart this type of organic staining so that it is easily removed. In order to clean the shoe in the picture(which was professionally dirtied by a two-year-old I might add) we took a small amount of the concentrated paste. It was applied using a damp scrub sponge in a circular motion. Once applied the shoe was wiped clean with a terry cloth towel. Just one application achieved the results pictured. For an even cleaner shoe, we could have just gone over it one more time using the exact same technique to completely remove any signs of the stain.
What if it was on my clothes?
Great question. If a grass stain was on your clothing you could tackle it one of two ways. You can either use Quick'n Brite as a pre-treater, or you could clean your jeans much like we described for the shoe.
Pre-Treat - As a pre-treater Quick n Brite works great. Just apply some of the paste to the stain and let it sit until you are ready to wash it. You can either scratch it in using your fingernail, or apply the cleaner wish a brush or sponge. For larger areas, you could add the cleaner to a bucket of hot water, and let the clothing soak overnight. While the Quick'n Brite is on the stain it is working. It will cause the stain to loosen and lift off the surface. Once you put it in the wash, the grass stain or other build-up will wash out nicely.
Standard Stain Removal- If you just want to clean the stain right away use a method similar to the one we used on the shoes. This method is always more thorough, and can be more effective on tougher stains. For extreme stains you might want to try a combination of both methods, but in most cases this would be completely unnecessary. So, to clean your grass stain off your jeans, dampen the area with water, or by spraying a light solution of Quick'n Brite mixed with water. Once damp, apply the paste full strength to the effected areas. Work the cleaner into the stain using a brush or your fingernail, and then wipe the area clean using a dry terry cloth towel. You will notice that the stain will transfer from your pants to the towel and turn it nice and green. Depending upon severity of your stain, you may need to reapply the cleaner, but using this technique, one can easily remove any type of grass stain in minutes. The process is quick and easy.
Quick'n Brite is an all natural cleaner that is 100% biodegradable. It is totally safe for use around children and pets, and can be used for hundreds of jobs all over your home, office or vehicle. Despite it being ridiculously safe and natural, Quick'n Brite is one of the toughest cleaners you will ever use, and most people find that it outperforms what they are currently using. Try this cleaner to remove a grass stain, then use it to clean everything else too. You actually end up saving moneywhen you switch to Quick'n Brite because it is a concentrated cleaner. It works great on tub and tile, laundry stains, carpet shampooing, oil stains, grease stains, kitchen cabinets and so much more. Almost any surface, stain or mess is safe to use this cleaner on. It is so easy to use, and the results are extraordinary.
1 comment to It's Easy to Remove Grass Stains
Great product here, I love shoe cleaners! It is important to have your shoes looking their best at all times
COMMENTS OR QUESTIONS?


Reply to this tip by typing in the box below.