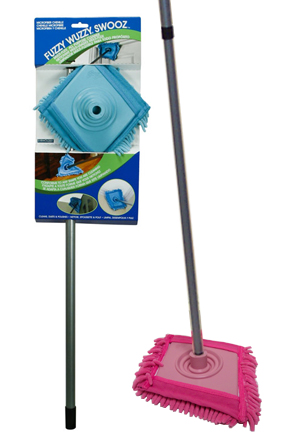 [1]Do what? you might ask. Swooz [1] it we would say. So what the heck does that mean? Well…Swoozing is an easy way to clean all over using a clever new cleaning tool, the Swooz. It is a little like a broom, a little like a mop, and also kind of a duster. The Swooz can be used effectively to do all sorts of jobs thanks to its' unique design. Use it to dust, mop, sweep, wash your car, remove cobwebs, wash windows and more. It bends, reaches and conforms to clean any surface with a high quality chenille microfiber pad. This pad can be used wet or dry and does not require any sort of cleaner in addition to it. Just wet with water to clean 99% of all dirt dust and germs quickly and easily, which makes the Swooz a good choice for environmentally conscious consumers. The long fingers on the pad provide increased surface area to pick up more dirt without rinsing or changing it. The advanced microfiber material is able to skim surfaces with millions of tiny wedges to lift up and lock in dirt and build-up, yet never scratch or harm it. It is the pad doing the cleaning, so additional spray cleaners and chemicals are just not necessary.
The best part about the Swooz [1] is the unique head. It is a diamond shape, and constructed from a solid piece of molded rubber. This natural rubber is incredibly durable and super flexible. This aspect allows the Swooz to fit between spaces and conform to uneven surfaces. It also allows the head to pivot and bend to any angle. There is hardly a place that the Swooz can't clean. It also comes with a commercial grade handle that is telescopic. Simply twist to set the handle to the perfect length for the job you are doing. The long length will allow you to clean under the bed, get high up corners, or just comfortably clean your hardwood floors. The high quality head is totally washable and reusable. It can be machine washed hundreds of times before it needs to be replaced. This clever cleaning tool will take the place of all those disposable swiffing, sweeping and dusting products you are currently using. It is incredibly easy to clean with, and has so many uses you will constantly find new ways to Swooz.
Take your Swooz outside to wash your car. It allows you to easily clean the tops of trucks and vans, and thanks to the long reach, you will also be able to wash your car faster than ever. The soft, yet effective head will never scratch your paint, and its flexibility will allow it to mold to the shape of your vehicle and clean every surface, even underneath, without bending or reaching. Bring the Swooz back inside to dust baseboards and crown molding. Extend the pole to remove cobwebs from vaulted ceilings or dust high shelves and ceiling fans. Got a spill on your kitchen floor? Bust out the Swooz and quickly soak up the liquid as you clean your floor. The chenille pad is super absorbent, and can hold up to 10 times it's weight in liquid. Swooz your hardwood floors and it will polish as it dusts and sweeps clean the surface. Use it with just a little bit of water for an effective low water cleaning method that is safe for all wood floors. You can even Swooz your windows and miirors. It is great to get the outside windows and glass doors. You will find it to be a quick and easy way to clean those hard-to-reach areas.
Add the Swooz to your cleaning arsenal today, and start discovering all of the ways you can use it. It is a super flexible and ridiculously versatile cleaning tool. High quality materials and a clever design ensure that it will be used a lot and last for years. So next time you have a big cleaning job to do…Don't just clean it. Swooz it.
Swooz [1]