A Disposable Kitchen Sink Strainer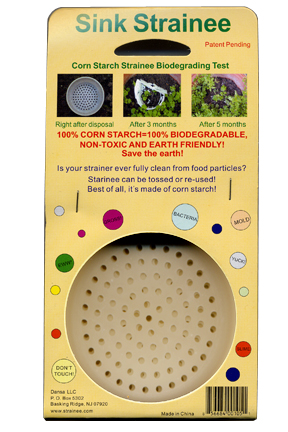 Don't you ever wish you could just toss out that nasty strainer sitting in your kitchen sink? They are one of the stinkiest and most germ ridden areas of our homes, but most people find themselves scrubbing and scraping just to get a little more life out of them. We often struggle with stainless mesh or plastic strainers in order to remove food particles, staining and germy bacteria. This makes them nicer to look at, but can be a real pain. This disgusting job is all but eliminated when you switch to a Sink Strainee in your drain.
What the heck is a Strainee you might ask. Well…a Strainee is a ridiculously affordable and totally disposable sink strainer. It works just as well as expensive metal or plastic versions, but has the added benefit of being toss out friendly when it gets yucky. The best part about them though, is that you don't have to feel bad about throwing these things away. They are environmentally friendly and 100% biodegradable. This means that they will totally decompose in less than five months of you discarding one. They are made entirely from corn starch, so they won't harm animals or any other part of the environment either. Despite being disposable, Sink Strainees are pretty durable and rigid. You can reuse each Strainee for up to 2 months or toss after a single use. They come in a pack of six, and sell for an incredibly low price with free shipping on any quantity, so you can always have another one handy.
Just pop the Strainee in any standard size kitchen sink drain to prevent food and other particles from being washed down the drain. It fits down in the drain securely, and remains in place. The top edge of the Strainee will be flush with the bottom of your sink so even the smallest particles will be collected in the strainer basket. They are safe in hot water, and won't dissolve or anything funny like that. You can use them over and over or toss whenever necessary. No more scrubbing dirty old strainers. Just throw it away when it starts to stink, gets stained, or just has a lot of yucky stuff in it. And because there is no impact on the environment, you don't have to feel bad about it being disposable either. Try Strainee today and discover the joy of being able to toss out that gross little sink accessory whenever you want.
2 comments to A Disposable Kitchen Sink Strainer
What a great idea! I love seeing new green products out there…it makes being a conscious consumer so much easier than before, and lots of fun too!

I tried to get this idea patented but was turned down by Lambert & Lambert because
there were already commercial drain strainers that used biodegradable disposable material but they never said anything about this. Can't wait to see how much they are.
COMMENTS OR QUESTIONS?


Reply to this tip by typing in the box below.